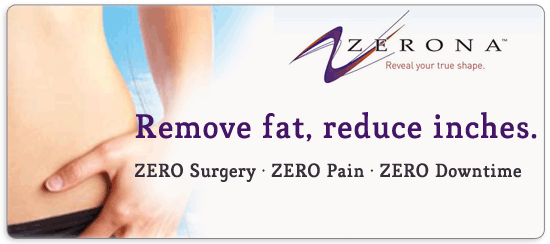 Reveal your true shape.
Welcome to ZERONA – the proven new way to painlessly
reduce inches and stubborn body fat quickly.
ZERONA revolutionizes fat reduction in a safe, proven procedure.
There are no needles, no incisions, and no
recovery time needed.
Why Zerona?
ZERONA is a new and proven slimming procedure designed to
reduce fat and contour the body without invasive surgery.
ZERONA is six quick and painless treatments. You simply lie under the
ZERONA slimming device for 20 minutes on your front and 20 minutes on your back.
And unlike minimally-invasive procedures or traditional liposuction, ZERONA allows you to continue your daily activities without interruption.
What can ZERONA do for me?
Reduce inches from target areas
Contour and reshape your body
Tighten and tone loose skin
Clinical trials confirmed the amazing effects that the ZERONA laser therapy
had on adipose tissue (fat storing cells). It demonstrated that a small pore was created in the protective membrane of the fat cell enabling the fatty matter to seep out of the cell. The excess fat was then passed out of the body during its normal course of detoxification.